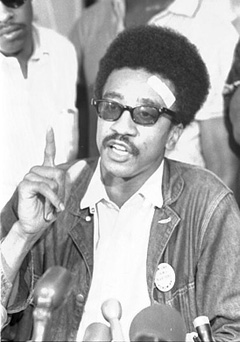 H. Rap Brown
I'll try to keep this short and sweet but I've had several inquiries about it so I felt the need to write it up.
A week ago, I had the chance to hear
Kevin Powell
speak about Black images in the media at a local university.
If you've been following us, you know that right about now, dude is prolly one of the biggest inspirations I have to write here and outside of here, mainly due to his book
"Who's Gonna Take The Weight."
Hearing him speak was no letdown.
Trying to remain brief, I'll recap those things that were mostly relevant to today's music...
Hip-hop culture vs. hip-hop industry
...real simple to see those without going into a full explanation. Basically, he mentioned how the powers that be got behind what began as a rebellious, "from the heart" music, picked and chose the pieces they wanted and thus you have the hip-hop that we see mass marketed today.
The Black Male Image In Media
...He spoke on various Black images from the 70's...from TV to movies...George
Jefferson, Shaft & the whole Blaxpoitation era, James
Evans disappearing Black father act after a season on Good Times...basically how Van Peebles started with an honest Black image to say "fuck the system" by creating "Sweet Sweetback" (if you haven't seen,
check your roots
) & the system took it & made it "the negro image" similar to the how rap got flipped from rebellion to "the black image of today"...He also made a very poignant statement comparing Karine "Supahead"
Steffans to
Venus Hottentot
.
I had the chance to ask him his perspective on how Chapelle was the "crazy
nigga" last year, now Boondocks reps that torch...but how both use the word "nigga" so freely and openly..he answered real simple..."Is this the
image we want to look back on twenty years from now?" He referred to one of his earlier points on how
Hustle & Flow
's soundtrack was nominated for some award (Oscars maybe? I'm not an award-buff) all to say..."Will we look back on "It's hard out here for a pimp" and jump up how our parents jump when they hear Marvin Gaye at the family reunion or backyard barbeque? (
wooohooo...let that sink in
).
Another relevant point he made was that in 1993,
The Chronic
was the best selling rap record. Bring that forward to 2005 & the best selling album was
The Massacre
...all to say that as a movement, hip-hop industry had not evolved in terms of content (
woohoo...think about that
). While I haven't had time to check the facts on the records he mentioned, his point was well recieved.
An additional point he made during Q&A is that we as individuals should jump
out there, use the various mediums in our control to fight against the
image the machine is puttin out there. My first thought was "blogging" lol...but he said, start on a local level and use the outlets that you have in front of you...if you're a photographer, take shots of the images YOU want to see out there...if you're a poet, perform at local events doing the type of works YOU want have heard...
Oh yeah for you fans....He spoke on Dave Chappelle. Dave's doing one magazine interview and Powell's conducting it (son's journalistic roots are deep)...mainly, he reiterated or translated what Dave said on Oprah and what he's heard from Chappelle personally, saying he's not going to let them dictate
his flow.
Really a whole whole lot & I'm the worst at verbatim recollections...son is deep. Not too deep that the average cat couldn't read him but deep enough so that the intellectuals respect him. That's what I 101% love about the dude. If you haven't checked his book, read it . It's nothing earth-shattering but his points are solid, he comes at it as the thirty-something black male from this first generation of hip-hop...It's on point, it's searching, and it's one you can pass on to that brother you know that ain't "deep" but wants light, namean. (
For a previous review of the book,
click here
.)
Whew...that was alot.
How will all that that I heard effect me/TSS?
Well...watch & see. Check me when I'm out of line. Commend me when I'm right.

Salute!

Gotty™
•
Request Time Again.
Anyone have any
DJ SHI'ITE
Mixtapes? If so, give us a holler on the email. It's been on the want list for a while. Anyone able to hook us up, it would be greatly appreciated.
Also, we're looking for
C.O.G (Children of Ghetto)
•
Click some ads!
We're
$6
away from a payout. Also, we got the
Paypal donation
button poppin off now so feel free.
•
Support the artists
& buy the album if you like the music.
•
Respect due
to the cats who laced us with a contributions over the past few days.



Stray Shots

Keep checking back here because we'll continously update this section.
Edan- Beauty and the Beat
Third Sight - Symbionese Liberation Army
MF Doom - Special Blends 1 & 2

Inspectah Deck - The Movement
Part 1
Part 2
PW is SuperttoG81
VA-DJ_Kay_Slay_And_Busta_Rhymes-The_Point_Of_No_Return
Ice Cube - Death Certificate
DJ Rectangle - Ill Rated
Cee-Lo Green - ...And His Perfect Imperfections
The Artifacts - That's Them
Paris - Guerilla Funk
Redman - Muddy Waters
Zion I - Deep Water Slang
Big Pun - Capital Punishment
Part 1
Part 2
PW is SuperttoG81

Pete Rock - Soul Survivor
Part 1
Part 2
PW is SuperttoG81
Afu Ra - Life Force Radio
Part 1
Part 2
PW is SuperttoG81
Frank n Dank - 48 Hours
Ne-Yo-In_My_Own_Words-2006
Juvenile - Reality Check
Backup Link
Fiona Apple - Extraordinary Machine (Underground Unreleased Version)
Fiona Apple - Extraordinary Machine (Retail Version)
Jason Mraz - Waiting For My Rocket To Come
James Blount-Back To Bedlam
Lethal Bizzle - Against All Odds (UK Grime)
Godfather Don & Kool Keith - The Cenobites EP
Sweetback - Stage
FYI - This is Sade's band
Scarface & Friends - The Product (One Hunid)
PW is 3rd Coast