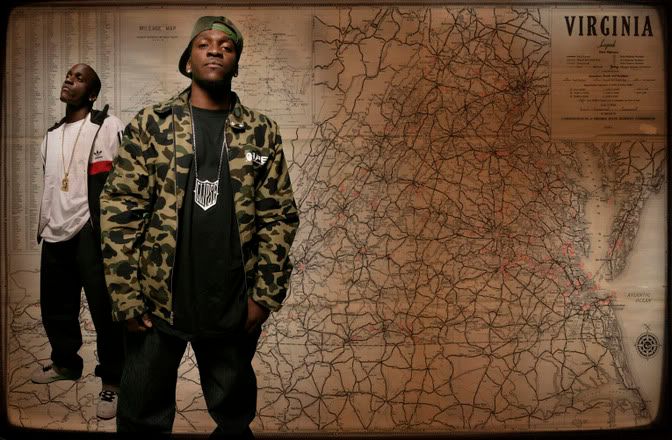 "...I'm into 'caine and guns."
I've been buggin' Dingle aka

M.A.T.T.

aka

Yousayberry

from Am I High? to drop thru and write something for you, our readers. Truth be told, his spot was one of the first musical blogs that I ran across and I've always admired dude's quirky, concise writing style; ear for the abstract, hot shit; & overwhelming fascination with all things Neptunes. What follows is the first of what we hope will be many more entries.
There isn't shit about rapping about drugs.
Get it.
Package it.
Flip it.
Its beauty lies in its simplicity. This is not your flossing music – braggadocio about unattainable jewelry and yachts will not fly down here. This is poetry for the masses. Every city in America has its drug deals, its dirty underbelly. Therein lies the beauty of the Family Thornton. Nothing changed, just the crimes is less heinous. The glorification of trap-hop started a long time ago, yet perhaps no one has perfected it like them. Critics point to their supposed one dimensionality – claiming boredom and redundancy. Yet, their ability to drop those references in countless ways and retain their swagger is their strongest trait. They are hungry, in the sense that they are on the come up, greedy for dough. By staying above the poverty line, they complete the glorification of hustle. Who wants to sling rock in a hoodie on the corner when you could move weight and floss Gucci at the same time?
Exclusive Audio Footage
is the earliest effort. Tinny Neptunes beats supplied the backdrop for the nasally flow. This shit was come up music – acura coupes and blunts and damn we hooked up with some ill production. It's immature tracks, a few gems, some misplaced interludes and everything you would expect from a talented duo still in the embryonic stages of their career.
This shit, however, was not about an amateur album. In 2002, some serious skills got showcased. The Neptunes were arguably in their prime, dropping gems on Jay yet saving their best for the label's young prodigies. Hard snares and lagging hi-hats coupled with live horns and Pharrell's breathy yelling for the jazzy bounce we had been missing. Who was there to match their innovation? Who could rap over those "Grindin'" drums? It came in the form of the off beat flow and unpredictable rhyming, carrying heat like Caribbean summers and generally captivating the listener with their astute insight into the game. They jumped from party shit to "we sell drugs" to an introspective look at the moral tribulations of what it means to sell drugs. The album flowed smoothly and their careers were set to explode.
Now we're back in 2006, and haven't heard what we want.
Hell Hath No Fury
was promised to us years ago, we've now missed out on the supposed R Kelly collab and another summer with the Neptunes. Caught in label limbo after the Arista-Jive merger, they've dropped two mixtapes and shown that they still possess that raw talent and desire. A few tracks have leaked, and we still eagerly await unwrapping Hell Hath No Fury, to hear their new similes and insights, their new reasons for swagger, and some shit that stays in the deck all summer long.
"Malice he think he hard, tough guy of the clique, and Pusha walk around like he swear he the shit."

"You right on both counts bitch, Clipse is us."
Clipse Discography
Contains links to...
Exclusive Audio Footage

We Got It 4 Cheap

We Got It 4 Cheap Vol. 2

Lord Willin'

Various tracks
•
Click some ads!
The numbers have been slippin! Let us make a little paper if you want to support us spending time here on the daily.
•
Support the artists
& buy the album if you like the music.
•
Respect due
to the cats who laced us with a contributions over the past few days.
•
Got music you want to share?
Email us at smoking.section@gmail.com and include the artist, album, filesharing link & password (if applicable). Your contributions are what keeps this joint moving.
• Come see us @
Myspace
and be sure to join the group. We try to circulate update info & some extras thru there.
•
Yo...we're still taking entries
for
The Smoking Section "Pass The Smoke" Challenge
for the
free Rapidshare Premium Account
. So get your submissions in!
Our Requests
• Mob Style - Game Of Death or any other album
• Animal Pharm - Pharmaceuticals
• N'Dambi - Tunin' up & Cosignin'
• N'Dambi - Little Lost Girl Blues
• RA Scion and Sabzi - Common Market
• DJ Ayres and JD - Houston for Dummies + Houston Rocks It (Bonus CD mixed By DJ Eleven)
Stray Shots
Keep checking in because we'll be continually updating this section.
Posta Boy - Real Recognize Real Mixtape (by DJ E.NYCE)
The Rascalz - Really Livin'
DJ Eleven - Houston Rocks It
Zion I - Mind Over Matter
Chino XL - Poison Pen: The Lost Tapes
Three_6_Mafia-Most_Known-Hits-2005
Ghetto Mafia - On The Grind
Beanie_$igel-Public_Emeny_#1 Mixtape
Field Mob - From Tha Roota To Tha Toota
Obie_Trice_Presents_Trife_Life-The_Introduction
Gnarls Barkley (Ceelo and Dangermouse) - Advance Promo
Remy_Ma-Theres_Something_About_Remy
Mobb_Deep-The_West_Coast_(Mixtape)
Heather Headley-In My Mind-2006
T-Pain-Im_Sprung-2005
ThE GAME - UNCOVERED 2006
Fresh Link

Slick Rick - The Great Adventures Of Slick Rick

Erick Sermon Solo Discography
Including...

No Pressure

Double Or Nothing

Music

React

Chilltown NYC