your boy
retro
signing in for
Gotty
today, after much procrastination.
So my name on this board and instant messenger is
retro inspired
. Why? Because i miss the old school. I think we're all at a point in the hip hop/r&b culture that's fallen into a state of perpetual copycatting of styles. And what's worse, is that with every passing cycle, the music gets worse.
Remember the good ole days? When men were men. The John Waynes, the John Shafts, the Superflys, the Steve McQueens. The Dirty Dozen. The Rat Pack. The Shaw Brothers. People who made the cool
cooler
, the masculine
more masculine
, and turned the bad into
badddddd mofos
.
My man Curtis Mayfield? Masculine.
Curtis Mayfield - Superfly"
(Shoutout to the lovers of 8 tracks on this one)
Pretty Ricky? Pretty Gay.
Unfair comparison? Maybe. But if this is the best r&b has to offer these days (with the exception of Anthony Hamilton, John Legend, and a few others), we're headed for a dark age of an American subculture.
On the flip side, it wasnt always about being serious or cool. A looooooooot of rap cats made hip hop listenable by poking fun at any and everything they could, and have a damn good time doing it. And dont forget being fresh. Allow me to take you back.
Thick ass dookie chains with the adidas jackets and the fedoras. To me, that's what started the "flashy" movement in hip hop.
Run DMC - Greatest Hits"
HIIIIIIIIIIIGH top fades with the bright colors. That's vintage early 90s.
House Party Soundtrack"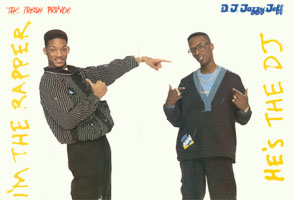 Party, "feel good" hip hop.
Fresh Prince and DJ Jazzy Jeff - He's The DJ, I'm The Rapper
And with that, I'm out. Audi 5000.

Additional Contributions
Some new mixtapes and advances that might be worth checking out. You can find your own tracklistings w/a little searching.
Mr. Brim Presents Kanye West Back To School Mixtape
From T.I.'s P$C crew...
Mac Boney and AK - Glocks and Plans
Lil Wayne - C-Squared (Advance)
More hot material from one of QB's finest (and most underrated)...
AZ - A.W.O.L. (Advance Promo)
DJ Kay Slay - NYC Drama Pt. 4
Buck and one of G-Unit's latest signees...
G-Unit Records Presents Death Before Dishonor (Hosted By Spider Loc and Young Buck)
As well, this song is prolly one of the best this summer so perhaps you'll enjoy the video. Tennessee is finally about to get it's props!
Three Six Mafia feat. Young Buck & Eightball and MJG - "Stay Fly" Video