(Filefront shut us down on the original content of this post but we'll be back. Don't sweat.)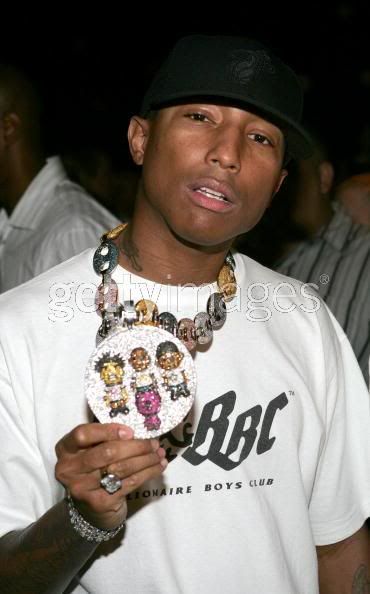 No...this post has nothing to do with Pharrell.
I just thought his gaw-dee jewels symolized excess fairly well.
Nope.
This is about gaudy, as in our style, as in what we do, as in OD-ing...with music.
The three day weekend is coming up and we'll be down for a few days.
So, we're going to continue our super-splurge from last week and give you more.
If you saw the VMA's, one of the more remarkable (read: fuckin confusing) things about it was Robert Kelly's performance. Well, if you missed it...
R. Kelly - "Trapped In The Closet" Part 6 Live At The VMA's Audio
Video Footage
R. Kelly - "Trapped In The Closet" Part 6 Live At The VMA's Video Footage
But that's not it.
Today, we are going to make the next few days en fuego excess.
Don't believe the hype? We'll begin here with two of Chi-town's finest.
R.Kelly
Common
We put up Dave yesterday but it didn't work so we reupped and hopefully got it right this time.
Chicago '85 The Movie
PW - bj
So to make up for it...
Ghetto Hymns
PW - hymns
Usher - My Way
And we are not done as there is
much more
to come this week. I
promise
you a big week.