...iced down
and

my room look like Nike Town

"

Jadakiss
(Bet you thought this was gonna be a
Lox
feature lol.)
This is gonna be hard for some to understand.
I'm a shoe addict.
I admit it.
It's been this way for years.
Currently, the sneaker culture is a HUGE thing to the mainstream.
But, cats like us were doing this WAY before it was the thing to do.
The recent boom in the fascination with sneakers, the whole internet experience that revolves around it, I'll proudly say me and a few other cats played a small role in that.
But trend be damned, I've always had a love affair with shoes period.
Some collect Beanie Babies, baseball cards, Star Wars memorabilia.
We collect & rock sneakers and shoes in general.
My favorite pair...whew, hard to say. Maybe the Bo Jackson's Trainer SC Highs in white/purple and orange, Syracuse colors baby! When I got those, it was game over. I was done. They were so sweet, I couldn't bear to even wear them and had to get rid of them to avoid the tempatation lol.
My most expensive pair of kicks...probably pair of Mauri alligator boots lined with mink. Fuck stompin' in my Air Force 1's. When those come out in the club or the block, cats gotta look and say "damn!"
I don't cop half as many pairs as I used to.
Actually, I hardly cop any shoes at all anymore.
I've sorta outgrown the actual buying part and become somewhat wiser with my dough.
But
Lil Ruff
can tell you.
There was a time when I was coppin one to three pairs per week for like a year straight lol.
I've done the whole Jordan collection at least 2-3 times over going from I all the way up to whatever the latest one was.
The highest my collection has ever gotten...maybe 170-185 pairs. I dunno.
My current rotation....prolly about 80 pairs including Timbs, gators, crocs, ostritches, dress shoes by all those Italian designers whose names end in vowels, Nike's, designer sneakers like Louie's, Gucci's, Coach, Prada's...or as
Tone
likes to call them "Scrooge McDucks."
There's no bigger rush for cats like us than a release date of a sneaker, winning an eGay auction, waiting for the mailman and throwing up gang signs if he doesn't show up with our shoes on the day we're expecting them lol....ahh, and putting on a new pair.
Neckbreakers. TNS (Taco Neck Syndrome - The head-turn a shoe causes). Whatever.
But even if nobody looked, we'd still be rocking the freshest pair of shoes.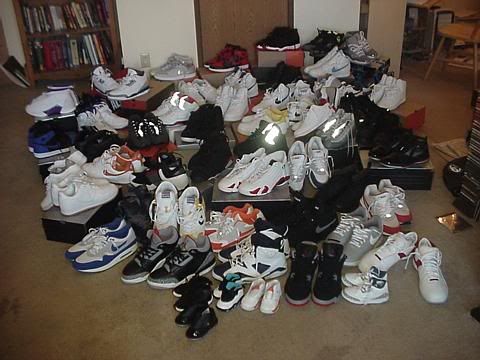 Summer 2000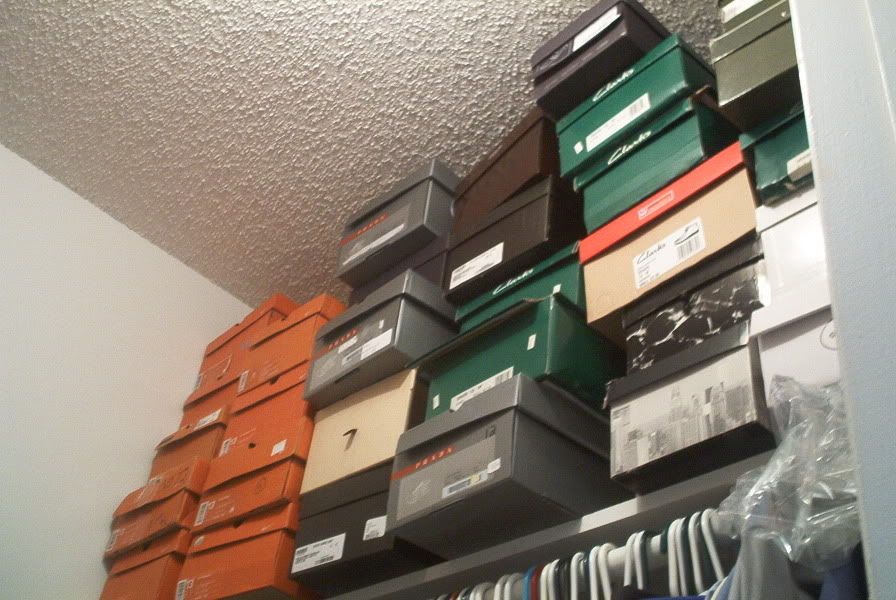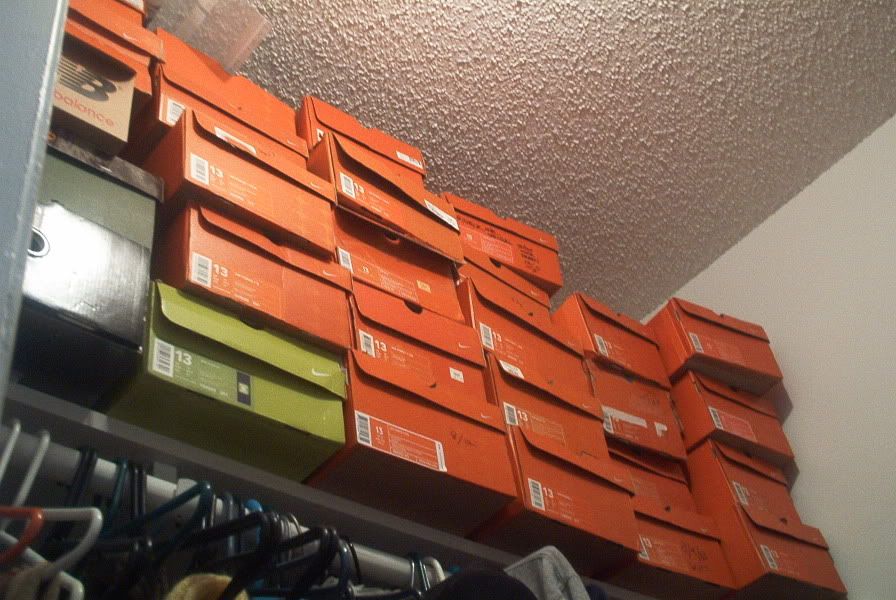 Summer 2002
Summer 2004
Recent Closet Pics
P.S. - If you ever run across these Tod's in a US size 12 or 13, get at me. I'm on a hunt for these pieces.
Appropriate theme music for today's post.
UGK - "Belts To Match"
Raekwon - "Sneakers"

Other guilty pleasures
....you know those songs you really don't tell anybody you listen to. The ones you cut down at the red light or when you pull up to the gas station. The joints you sing in the shower or when they come on the radio while during your best Tom Cruise "Risky Business" impersonation....yeah those.
Evanesence - "My Immortal"
Destiny's Child - Emotions
Bow Wow featuring Ciara - "Like You"
Damien Rice - "The Blower's Daughter"
The Romantics - " I Hear The Secrets That You Keep"
Jaguar Wright - "Love, Need & Want You"
And this ain't even guilty because this is straight FUNK!
Sly & The Family Stone - "If You Want Me To Stay"
And I don't know if you have the time but here's a small
Prince discography
. Albums include...
Prince
Controversy
1999
Sign Of The Times
Purple Rain
Diamonds and Pearls
The B-Sides
Emancipation
Prince Albums
Password is dukins
Oh yeah...for you shoppers.
Polo 25% Discount Code
(I always rack up with these joints)
SALE25

Til October 10th