I'm the coolest dude you'll ever meet.
Ask anybody that knows me.
And one thing about cool is you can recognize other cool shit as soon as you see it. People, places or things. It's how us cool people set trends and break styles.
The coolest animal ever has to be fish.
Think about it.
There's no cleaning up after them except for once a month, they don't run away, they only have to be fed once a day.
Fish have style baby. I mean legitimate individuality. No clones. All of them have their own size, shape and color. No two are alike. From coal black to vibrant yellow, they have pizzazz.
They don't poop on the floor, lil kids aren't scared of them and they don't lick your face.
Something about fish just screams, nah sorta calmly states, "man, I'm cool." If fish were humans, they'd be pimps.
They have amazing personalities and are smart. Like Pavlov's dog, they know who Daddy is and run front and center when I walk by because they think it's feeding time.
I have two tanks.
This one is G-Block. It's a community tank. G-Block is a little cooler. Everybody sorta get along like "Ebony and Ivory".
This Bluetail Lobster is the coolest one in this tank. He just hangs out in the corner, eats and patrols the tank like he owns it.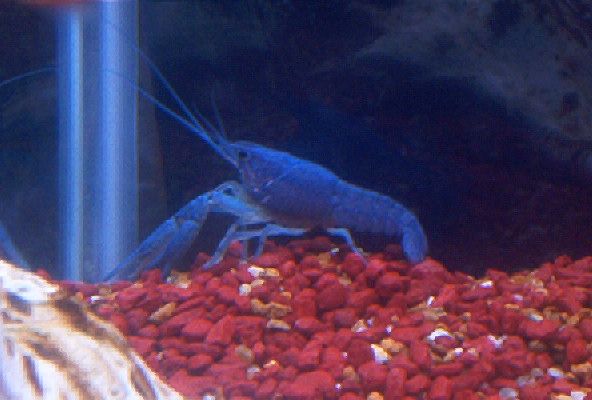 The other tank is D-Block. It's an African cichlid tank (piranhas are in the cichlid family).
They wild in D-Block and it's survival of the fittest. I throw in bloodworms, brine shrimp and guppies and these boys eat'em up. And, if they don't like each other, they'll kill each other in a heartbeat.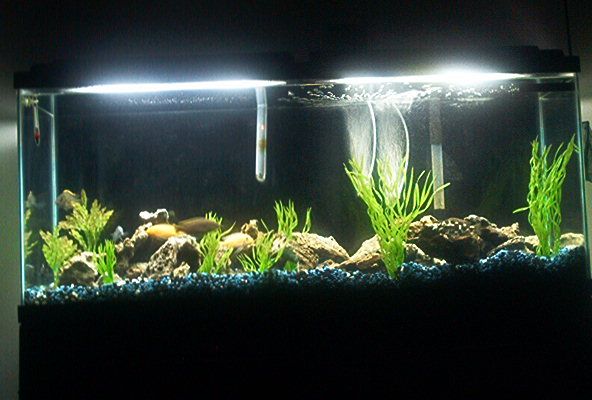 This right here is an albino cichlid. Nobody bothers him because he'll fade'em in a microwave minute.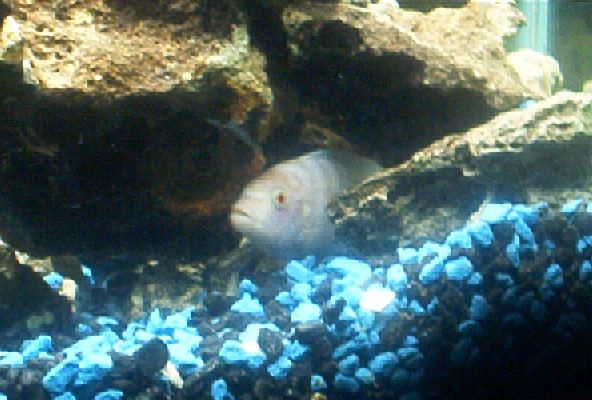 If everybody was as cool and individually colorful as fish, this world would be a much better place.
So, today, we on some coolout shit. It's mega hot outside. Normally, the heat means bodies dropping like stocks and incidents of road rage rising. In an effort to quell that hostility, we gonna give you some mellow music to help you get your
"wooosahhhhh"
on. You don't have to try it. As for myself, I'll be lounging, smoking a Kool, watching the fish with these tracks flowing in the background.
Kurt Cobain was the truth. In the spirit of Pac, when Kurt performed or sang, he
made
you feel it. His voice is full of pain and strain but all in a glamorous type of way. He was doin the whole "pain is love" routine way before Ja and Lil Mo. Arguably, Nirvana had the best MTV Unplugged set ever and here's two tracks to better prove it.
Nirvana - "Come As You Are" Unplugged
Nirvana - "Polly" Unplugged
And while we on the Unplugged tip, I love this woman's voice. It's got the same pain as Kurt's but it's got a shrill whine that's enthralling.
Alanis Morisette - "That I Would Be Good" Unplugged
Alanis Morisette - "Uninvited" Unplugged
Don't sleep...
The Beatles - "Imagine"
And this is my favorite John Mayer track and the one that turned me on to him. It's on some lovey-dovey tip but, hey, we coolin out today. What follows are two of his albums. Since you all are prolly too shy to go in the store and cop these, look at is as a favor from me lol.
John Mayer - "Comfortable"
John Mayer - Heavier Things
John Mayer - Room For Squares
Recommended
Retro
put me on to this dude so I'm passing it along. I've read interviews with this guy long before I heard his music and he seems real geniune. His music isn't standout because of his voice or musical accompainment. It's more the vibe he creates. He straight up on some old flip-flop rock, kick back and walk barefoot thru the grass type shit. If you can't cool out to this, I don't know what to tell you lol.
Jack Johnson - On & On
Just in case you do need some hype music though, here's the latest Stack Bundles joint, courtesy of
Dub Cee
. SQQUUAAAADDDDD UPPPPPPPP!
Stack Bundles - Rap's Makeover (Hosted By DJ Envy)