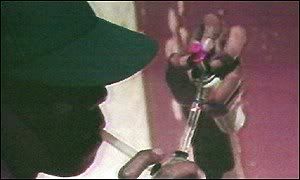 So one weekend several years ago, my crackhead auntie came to stay with me. For what? I can't even remember.
Crackheads are an enigma. Beautiful, fun and entertaining one minute; shiesty, treacherous and cruel the next. My auntie was no exception to those descriptions. She has the short Afeni hairdo, rough skin, and a slightly gapped-toothed smile. And she's got what anybody from the streets has - those dark impenatrable eyes. I tend to believe that comes from years of having to be a "believable chameleon" and selling yourself and your story as the truth everywhere you go.
So I was up early one morning while she was staying, we were sitting up smoking Kools and I was downloading some music. She overheard me listening to tracks and was immediately involved and amazed. She started callin out requests of songs I'd never heard before, old soul classics way before my time. And she requested this one particular song and said it was her and her ex's "song". I looked for it, never having heard it before and when it came on, I liked it. And behind me, she started to sing, just like the lady on the song. Blowing. I was shocked she could sing like that after years of abusing her pipes with pipes.
And as I type, I remember when she wasn't so strung out, she came to my maternal grandfather's funeral and sat with me. I was a soldier the whole way thru, not a tear shed....until my auntie, sitting beside me, started to sing. Her voice was so powerful, I had to let go.
It's amazing sometimes to see the paths people take.
Here's the track. It's definitely worth a listen. I want to say I was sparked to find it after hearing it playing on the low in a scene from
Diary Of A Mad Black Woman
but I could be buggin. Maybe I just wanted to hear it and tell a story lol.
Jerry Butler and Brenda Lee - "Ain't Understanding Mellow"
The same dude made the original track that was sampled by Game for "Dreams."
Jerry Butler - "No Money Down"
I found this. I'm not exactly how "new" it is. Either way, the boy Tone gonna love and appreciate it lol.
Jamie Foxx and Mary J. Blige - "Love Changes"
There's a long story to why this is here lol. But give it a listen because "THEY CALL IT MURDDDAAAAAAHHHHHHH!"
Damien Marley - "Welcome To Jamrock"
And I know most of you chicks are diggin this dude, I figured I'd lace you with another library. Thank me by suggesting which tracks I need off each album. Email me yo!
Avant Catalog
Private Room
My Thoughts
Ecstasy Part 1
Part 2
This man's got a little following. I've had the album for a long while now. He's in the neo-soul vein but with a little extra something. You might have heard him singing on Slum Village's tracks (think "Tainted" by them feat. Kanye).
Dwele - Subject
Just throwing this in to boost your collection.
Monica - Miss Thang
...and I ain't forget you dude's. Webbie and this man have been creating a buzz since last spring. With "Gimme That" and Webbie's album leading in to this, they bound to blow up a little taste at least.
Lil Boosie - Bad Azz (Advance) Part 1
Part 2
Lil Pepe, this is all you and Tone.
Pitbull-Unleashed_Vol._5_(Presented_by_DJ_Ideal) Part 1
Part II
Part III
And the new Kay Slay.
DJ Kay Slay - NYC Drama Vol.3
This is classic hood material. The dollar box on top of the fridge. The screen door with no screen. The Huxtable doorbell. From the first season, I bet
Cribs
wasn't expecting anything like this when they contacted Reggie Noble.
Redman on

MTV Cribs