Crack...
A word that during the late 80's/early 90's was totally negative. People sold it, people smoked it, peoples' lives decayed because of jail and/or death.
But leave it to the next generation to change it's meaning. In the same way the N.W.A. generation made the n-word acceptable, today's generation has taken the word crack and put a spin on the meaning. Let me show you...
Beyonce's booty in this picture is
crack
. I mean pure, Pookie from
New Jack City
freebase. I ain't the biggest B fan but she has definitely became more attractive to me over the years. I can fully understand why Terrance Howard's got that look on his grill.
This chocolate caramel nut cheesecake is
crack
. My mom had a variety cheesecake with all the different kinds and I tried a slice of this kind, one piece, only once. The other day, I woke up from an afternoon nap and my second thought was "I gotta have some of that pie." So what'd I do? Hopped my fiending ass in the whip and went and bought a whole pie. Was it worth it? Well, do you have to ask? It's in my crack post isn't it?
She has nothing to do with anything but "Crunk Ass White Girl" throwin' bows with David Banner...this image is always
crack
.
These are two cd's I've bought countless times because I have to have them at all times. I don't ever want to need them and not have them. Nas is....Nas. The 'Face joint hasn't left my cd changer in over a year easily, probably longer. You can add them to your collection from the links below.
Crack
.
Nas - Illmatic 10th Anniversary Platinum Edition
Scarface - The Fix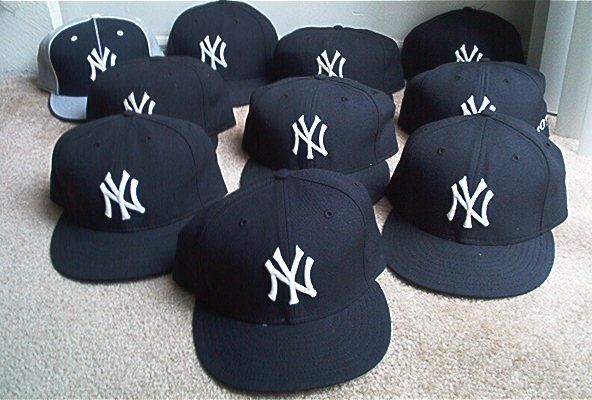 I'm a hat fanatic. If you remember, at one point in our society, gentlemen wore hats everyday, everywhere. Times have changed but some of us still stick to the script although we've changed some of the wording. I wear a hat daily. I've got at least 100+ and that's
after
selling roughly 60 to a friend lol. I've got skullies, tobogans, fedoras, felts, Kangols, buckets, whatever...but mostly I have baseball caps. More than anything, I have NY fitteds in all types of colors. But the hat I have to have....the classic New Era New York Yankees OG fitted in navy blue.
Crack
. A must have.
And just as important as OG Yanks fitteds...call'em "Uptowns," "1's," "all whites," "cocaines,""dookies," "fish scales," or "G-Nikes". Whatever they call'em in your area, it doesn't matter. I keep
at least
two pairs of white lows on stash at all times of the year. ALWAYS. At one point last year, I had six fresh, unlaced pairs just sitting in the closet.
Crack
.
Juelz Santana calls himself "Human Crack In The Flesh." I believe Allison Hatcher on
News Channel 2
here in the city should take that title. Maybe have it under her name with each report - "Allison Hatcher,
Human Crack In The Flesh
, reporting". She's
crack
. If you know her, tell her to get at a pimp. I'll make her famous.
Ahh...now on to music.
New stuff...
Yeah, she goin to jail. And what? She dropped this last week on the day she was sentenced. Rappers and their marketing ploys
Lil Kim - "Shut Up Bitch"
This is a snippet of an Usher Raymond track produced by Neptunes, always a hot collabo. A snippet at this juncture? Don't know what that means. Maybe it was something that got left off the album because I don't see him dropping another album this quickly.
Usher - "I Heard A Rumor (Snippet)"
I been giving this a little burn here recently. To me, Jagged Edge and 112 will always be that good baby-making music. And this album right here...crack. A must have.
Jagged Edge - JE Heartbreak
And I stole this from our contributor Retro. He's busy finishing up summer school and working on his undergrad degree so he's been stuck in grind mode off that for the past few weeks. But, he's been kind enough to keep his files open for leeching. Love is love and this album is full of hits. As soon as I saw "Little Walter" I started singing in my head "heeeeeyyyyyyyy Littlllleeee Waaaalllllttteerrrrr" haha. I knew I had to grab it and share immediately.
20th Century Masters - The Millennium Collection: The Best of Tony Toni Toné
PFifty requested this joint and I won't even front, I knew little to nothing about these crew except they old. Once I gave it a listen, I saw why so many old folk enjoyed them.
The Manhattans - Kiss and Say Goodbye: The Best of the Manhattans