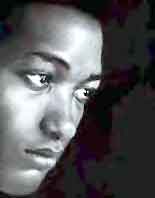 We struggled with how to put this one together...the words that is.
We knew one phrase applied - "Died before his time".
However we knew there was much more.
So in my search for inspiration, I found this quote that pretty much summed the man up (emphasis mine).
"
In the early to mid 50's Sam Cooke came into the national spotlight, armed with acute business sense, deep gospel roots and one of if not the greatest voice that a soul singer has ever had. Otis Redding could outshout him, Gaye did more with what he had as a vocalist, and Al green maybe could caress a lyric better. Yet

no one

had the

total vocal package, resounding clarity, and ability to move people through bending a single note than him

. His works with the Soul Stirrers brought a whole new emotional brevity to gospel and set the blueprint for 4-5 part harmony for every single vocal group that came afterword
."
With that said & summed up, we give you the music because it says more and says it better than we could ever attempt.

Sam Cooke - Wonderful World
Sam Cooke - The Best Of
Sam Cooke - The Man Who Invented Soul
Sam Cooke - Live at The Harlem Square Club and Night Beat/Live at the Harlem Square Club (1963)
Sam Cooke
Respect due to
Kim L. aka Ms. F Lupus
,
Chari
&
Lurker
(smile) for their contributions.
And I know certain cats need both of these joints...
This...
Ghostface - Fish Scale (Retail)
Link 2
Link 3
And this...
B.G.-The_Heart_Of_Tha_Streetz_Vol._2-I_Am_Wat_I_Am-2006 [Retail][GroupRip]
Family Business....
If you haven't signed up, join the mailing list for
5th Platoon
.






Get updates and exclusives!
Our prime objective this week
is to push to have all 4K plus visitors that we get on the daily to show how strong they and we are as a voice in the online hip-hop community by signing up for this particular mailing list. Please believe, this is a stepping stone to larger things. So, please pay your part & don't be one of those "
full of sound & fury signifying nothing
" type of individuals (
MacBeth
fool! lol)...do something!

Salute!

Gotty™
• Help Retro out by buying his shit! eBay status,
help a poor bastard out.
•
Support the artists!
Also, be sure to visit
DownhillBattle.org
.
•
Drop us a
Paypal donation
. We've got things we want to do to enable us to be able to do more with maintaining and upgrading. Ten cents or ten dollars...it's all welcome and appreciated. If you can't do that, be sure to
visit our sponsors ads
.
• Join the
Myspace group
or the
Last.FM group
.
Our Requests
• Anyone have any
DJ SHI'ITE Mixtapes
? If so, give us a holler on the email. It's been on the want list for a while. Anyone able to hook us up, it would be greatly appreciated.
•
Charli Baltimore - The Dark Half Mixtape
•
Hidden Beach Recordings Presents - Unwrapped, Vol. 3
•
Bill Cosby - Hello Friends,To Ennis with Love
Stray Shots
We're trying some new technics for getting the new and the different to you without killing ourselves everyday. If you like it, let us know. Respect due to my man who put me up on this (if you want your name shouted let me know homie!)
First, here's what's available...

Maxwell - MTV Unplugged

Digital Underground - Who Got The Gravy?

Complex & J.Period - G.O.O.D Music The Class of '06

Shaolin Soul (Original Wu-Tang Samples)

Rakim y Ken-Y - Master Piece

Gyptian - Untitled Promo

Murs_And_9th_Wonder-Murrays_revenge-2006 [Retail]

Vakill - Worst Fears Confirmed

Bizzy_Bone-The_Story

Beastie Boys-Pauls Botique

Madlib-Mind Fusion Vol.1

Madlib-Blunted In The Bombshelter

Lone Catalysts-Good Music

J-Zone-Music For Tu Madre

J-Zone-Bottle Of Whup Ass

J-Zone - Cassette

J-Zone- Instrumentals Vol.3(Lost Instrumentals)

J-Zone-Instrumentals Vol.6(The Pink Cookies)

Mr.Brady-Dusty Baker
Two ways to get these...
One, get the text file containing the links.
Text
Two, go to the ftp page created to host them.
ChangeLink Page
Give us feedback on which you prefer. We're steadily making changes and improvements so you need to let us know what works best for you.